Buying? Selling? Look Here!
Here you have the opportunity to tell us about something you are selling (Shadow oriented) or are interested in selling. If you are buying, tell us what you're looking for, if you're selling, give as complete a description as possible and give us a price.
NOTE: We are not responsible for the transactions between you and the purchaser/seller. We merely offer this as a contact site. "Buyer beware" comes to mind here.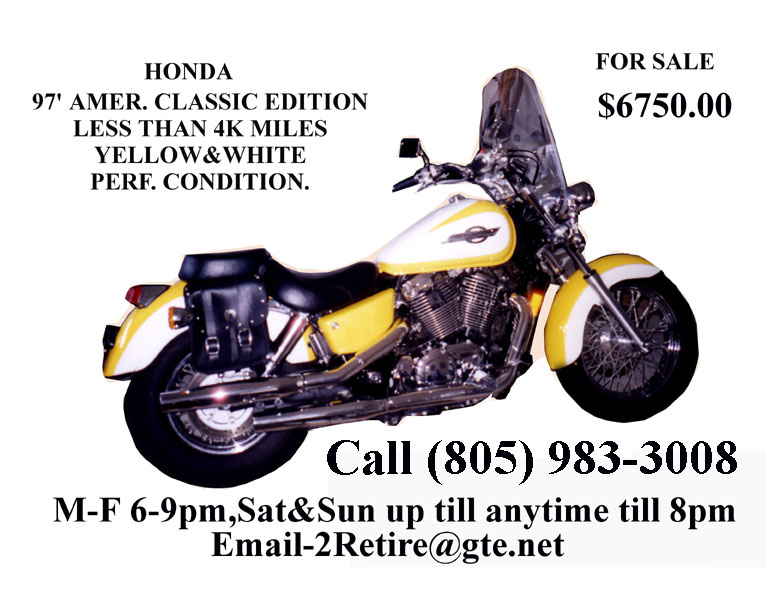 95 Shadow VT1100 For sale!!

7300 miles. Never dropped - always garaged. Stock. Red and white. Adult owned and maintained. Comes with cover and shop manual. $5500 OBO. Located near Phoenix, AZ. Call: 602-839-6066 (h) or 602-554-4833 (work 8-5 weekdays, PT). Email: jvhamlett@az.rmci.net or john.c.hamlett@intel.com.



Wanted: Looking for a complete/working tachometer for a 1986 Shadow 700. Please Contact: rye@cp.duluth.mn.us
For sale: Stock pipes / Seat /Tank emblems and misc. stuff from a 1995 A.C.E. 1100. Make offer. Don Adams
Wanted: A working, undamaged MPH Speedometer for a 1989 Shadow VLX600 (reasonable price !). Any help would be greatly appreciated. Contactable at John Lawson
Wanted: Looking for a stock sissy back rest and luggage rack for 1996 ACE 1100 for reasonable price. Contact Jim.
Wanted: I am currently looking for a chrome grill cover for a 1986 VT700C Shadow . Please contact Mark.
Wanted: I am looking for a back rest for my 98 shadow 750. I hate the price on the new one. wife says we need it LOL, or she says no americade trip for us. please e-mail me at hotrodpro@aol.com
Wanted: Looking for CUSTOM PIPES to fit 88 800 Shadow , I know they made them for a sort time, This was only a two year model 88/89. or any other parts someone may have. please E-mail Whyleedog@AOL.com Thank you
For Sale: Set of Cobra Mufflers. Fits Honda Shadow VT1100 they are the Blvd. Turnout style. They are listed on the Cobra home page for $219.00. I only want 100.00 and they are brand new still in original carton. Also for sale one set of Jardinne Mufflers for Honda 1100 Shadow style is slash cut part number is 14-1907-01 also want 100.00. Thanks Bob Howard
Wanted: 87 to 94 Shadow 1100 set of turn signals, with both front handle bar mounted turn signals stems and Cobra rear stems, if you have them. I am also looking for a set of Travelcade Desperado saddlebags off of any bike. I need the following for my 86 VT1100: Corbin HS11 seat, Jardine Rumbler slip-on mufflers, a front fender, Kriss Ind Hot Shot (turn signal brake light module) and an engine guard. Contact Arnie or at (818) 222-7037
Wanted: Vernon is looking for a Shadow to buy. He used to own an '89, now he's looking for an '85 or newer...size 1100.
Wanted: I've been searching for an '89 Honda Shadow VLX 600, thus far to no avail. A few dealerships are on the lookout and I constantly scout the net (Recycler, CycleTrader, etc). Do you have any suggestions or can you list a wanted add on your web site? Anxious, and less patient daily. Much appreciation. Angel (213) 385-2409 (My boss discourages the use of this net address.)
Wanted: I am currently looking for a stock exhaust system for my '95 1100 Ace. With all the people going to after market I wonder what they do with their stock systems? If you know anybody with one for sale please let me know. David Morris.
Want something posted? Email us.