These were the first rides of the club before it was a club. It's unfortunate that we don't have more pictures than these because 10 or 20 years from now they will be real treasures!
November 1997 Ride
Jackie Phillips outside the Rock Store. If you've never made this ride, you are in for an experience!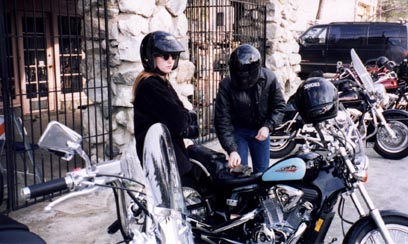 Jackie and Beverly Phillips, outside the Rock Store again!

The December 1997 Ride

From left to right: Beverly Phillips, Ron Phillips, John (Steelhorse)???, Mark Hudkins, and Pete Gorham
Well we're not sure why, but here's the same picture without the riders!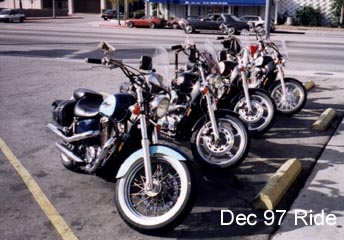 Yep, you're right...there's a bike missing. Can you tell who must have been late? We can!

The March 1998 Ride

Hey, a lot more bikes than in December!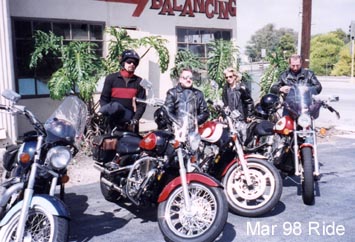 From left to right: Randy, Warren (?), Linda Lunney, and Mark Hudkins
In this pic we have from left to right; Randy, Linda Lunney (back to us), Pete Gorham in front of Linda, with Ron Phillips on the other side if Pete...I don't know who is bending over there...but off to the left that's Bob "Bullhead City" Holub talking to Mark Hudkins. Whew!
Last updated: 9/29/98
For site issues or concerns: SCSR Webmaster